The Lifestyle Portal is an e-publishing platform that focuses on entrepreneur profiling, entrepreneur directory listing, workshop reviews, feature stories and more.
Over the past seven years, we've featured and profiled over a 170 entrepreneurs/ start-ups from various fields and have collaborated with some of the top brands in the country.
You can write to us at tanya@tanyamunshi.com if you'd like to collaborate with The Lifestyle Portal and browse through our Hall of Fame to see the list of people who've inspired us.
Tanya Munshi 
A fun-loving gourmand who finds bliss in travelling, eating and cooking to the extent that there is a visible twinkle in my eyes when I talk about food!
Focus and positivity go hand in hand in my daily life as I melt away my problems with a scoop of indulgent ice cream/ dessert.
A features writer by profession and a Certified Parent-Child Play Practitioner, I'm happiest clicking pictures of people, places and of life as-it-comes with my prized DSLR.
Apart from running The Lifestyle Portal, Tanya has also been a visiting faculty teaching Journalism Writing for the MA program for Media & Communication, at the Department of Extension Education, SNDT Women's University.
Meet our Team
Bhumika Vikam
Meet the effervescent Bhumika Vikam, our first ever official team member. Apart from being a psychology student, this 19-year-old is a powerhouse of talent.
So the list goes like this – she is a Certified Primary & Pre-Primary teacher, a Certified & Licensed Baby Bonding Practitioner/Specialist, a Certified & Licensed Parent-Child Attachment Play Practitioner/Specialist and a Trained Spoken English Teacher by British Council & TOI. Wait, there's more…and when she gets some spare time, she loves reading, writing, and swimming.
Priya Narayan
Priya Narayan is a professional writer, storyteller and child development specialist. She holds a Post Graduate degree in Child Development from SNDT Women's University, Mumbai. She is also a trained Yoga Teacher from the Yoga Institute, Mumbai and a certified storyteller from The Secret Passages.
After being associated with leading Educational Institutions as a Teacher, Trainer and Centre Head, she took a break post motherhood. She decided to pursue her childhood passion for writing and runs her blog called Nice Parenting.
In the News
Read more about The Lifestyle Portal on Maslowed.me, Jabong.com's International Women's Day special feature #sheinspires series, Inspirational Women Series in WeAreTheCity.in, Sophia Platinum Jubilee, Sheroes.com  and The Tao of Self Confidence.
Content Partners
The Lifestyle Portal are are content partners with Redstone Summerhill, World of Moms (from the House of FirstCry) and The Big Indian – India's coolest startup newsletter and The Startup Tales, to name a few.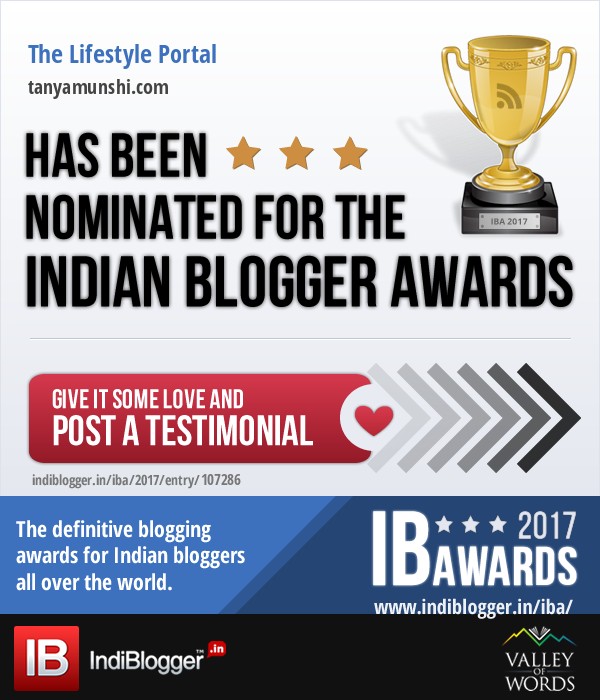 ---
All content and photographs are copyrighted unless otherwise
indicated. Do not post or publish anything from this site without full credit
and a direct link to the original post. If you wish to use pictures please ask
at
tanya@tanyamunshi.com